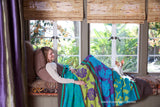 Carton Botanical
$166.00

Curling up for a nap under this jewel-toned blanket leads to dreams of faraway places. Fluffy socks, a silk eye mask, soothing lip balm and all-natural strawberry lollipops ensure that the patient has everything she needs for a vibrant recovery.
Carton Details:
Plush flannel blanket:  This brightly-colored, reversible blanket by David Fussenegger is made in Austria at a company that has been producing premium textiles since 1832.  Dimensions: 55 x 79 inches. 
Winter white fuzzy socks are super comfy. Wool blend. Made in New Zealand.
White silk eye mask is made of hypoallergenic mulberry silk. Adjustable.
LA Bruket lip balm:  Extra large tube of organic lip balm provides long-lasting relief for dry, chapped lips. Key ingredients: almond and coconut oil. Made in Sweden. 

Pomegranate Honey Spoons: These pretty pink lollipops are delicious on their own, or can be stirred into tea for added sweetness (.5 oz each).
Carton Blanche linen bag :  A nice little bag for small essentials.