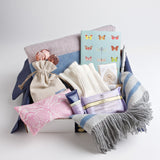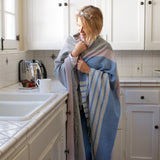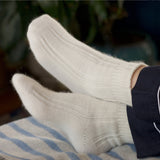 
Carton Amethyst
$234.00

A deliciously soft alpaca blanket, matching angora socks, and a lavender-filled eye pillow combine to create a sense of well-being with the help of some rosy lip tint and moisturizing hand cream. A game of blackjack with these great-looking playing cards keeps things from being too ladylike.
Carton Details:
100% baby alpaca blanket:  Pastel hues of grey, pink and blue are woven into a two-sided stripe pattern in this hypoallergenic throw produced with the finest grade of alpaca. 71 in. length x 51 in. width.  Made in Peru.
Falke bed socks:  Fluffy ivory angora socks are meant to be worn in bed to keep feet toasty-warm.
Eye pillow:  This aromatic eye pillow is filled with a soothing blend of lavender and flaxseed. 100% cotton with satin lining. Handmade in the USA.
Marble & Milkweed rosy lip tint:  A hand-crafted blend of organic ingredients that leaves lips smelling like a rose. Compostable paper push-up tube. Made in the USA.
Organic wipes from Conscious Coconut:  Cold-pressed coconut oil wipes are a bit of a miracle as they cleanse, soothe and moisturize all at the same time. Wipes are biodegradable and made of bamboo viscose. Box includes five wipes.
Hand cream by Neal's Yard Remedies:  One of the following will be included: Bee Lovely (energizing orange and honey scent), Wild Rose (uplifting geranium and rose), or Geranium & Orange (reviving geranium and orange). 30 ml.. 
Notebook by Alibette Editions:  Multi-colored butterflies give a vintage vibe to this lovely lined journal.  64 pages, 8.66" x 6.69."
Artisans playing cards:  Magician David Copperfield has described them as the best playing cards ever produced. Who are we to argue? White and gold.
Carton Blanche logo pen:  Silver gel pen with black ink.
Pomegranate Honey Spoons: These pretty pink lollipops are delicious on their own, or can be stirred into tea for added sweetness (.5 oz each). 
Carton Blanche linen bag:  A nice little bag for small essentials.