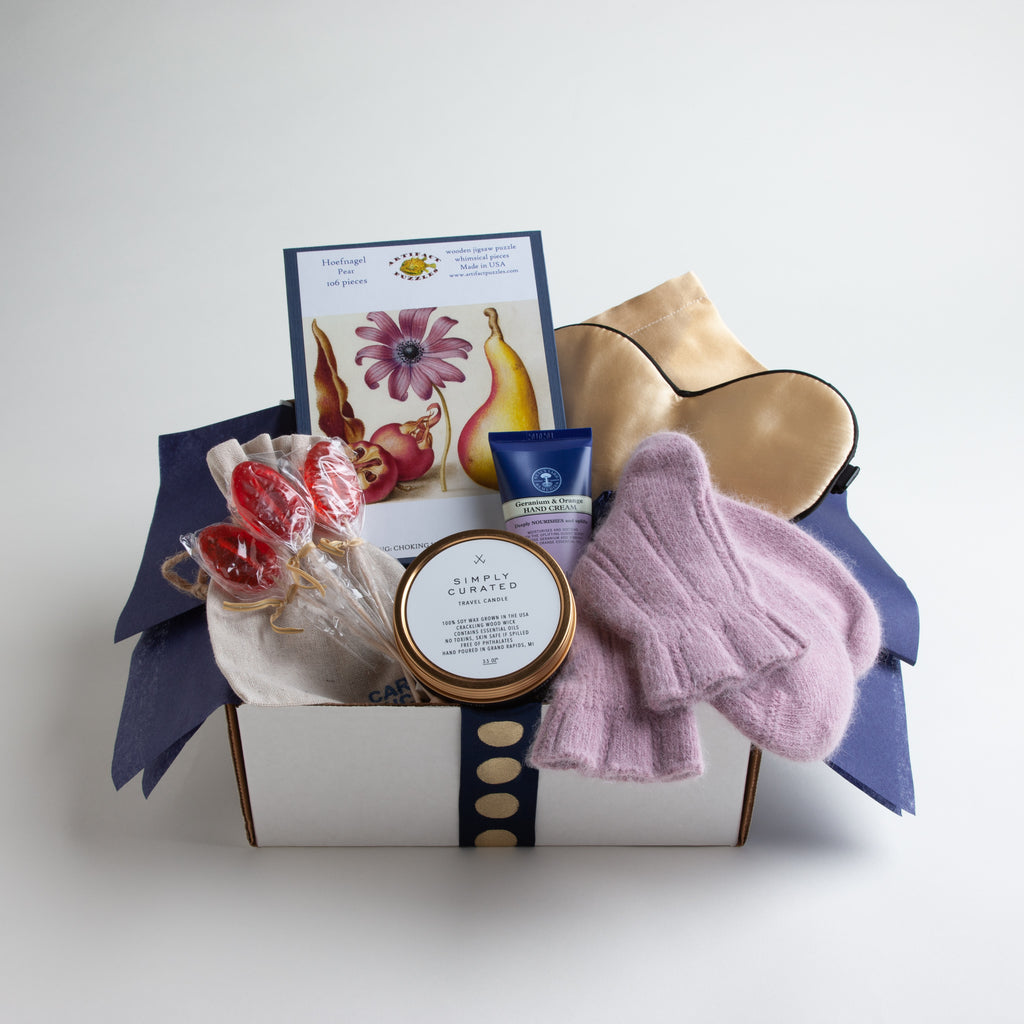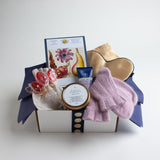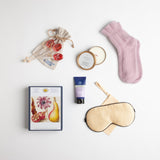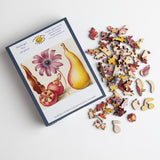 Carton Pomegranate
$128.00

The golden rose colors of Carton Pomegranate make cocooning at home feel especially inviting. This gift box includes: angora bed socks by Falke, geranium and orange hand cream by Neal's Yard Remedies, a guava fig travel candle, a champagne silk eye mask with matching storage bag, and a beautiful wooden puzzle featuring an illustration by 16th century artist, Joris Hoefnagel.
Carton Details:
Falke bed socks:  
Fluffy mauve angora socks are meant for cozy lounging around the house or wearing in bed to keep feet toasty-warm.
Hoefnagel Puzzle by Artifact: 
This 106-piece wooden jigsaw puzzle is a lovely illustration of a pomegranate, flower and pear by  Flemish painter Joris Hoefnagel.  Hidden within the puzzle are a few special fruit-shaped pieces which make putting it together even more fun.  Puzzle is 6" x 7 " and  1/4" thick. Packaged in a handsome blue box with magnetic clasp.
Geranium and Orange Hand Cream by Neal's Yard Remedies: 
This energizing blend of rose, geranium and orange organic hand cream deeply nourishes and moisturizes hands. 50 ml.
Champagne eye mask in mulberry silk
, considered to be the softest of all silks, comes with a matching silk bag for elegant storage.
Guava Fig Travel Candle by Simply Curated
is a luxurious blend of apple, cassis and guava with notes of fig and pear. Made in MI of soy wax with a clean burning wooden wick. Burn time: 16 hours. 1.95 oz.
Pomegranate Honey Spoons: 
These pretty pink lollipops are delicious on their own, or can be stirred into tea for added sweetness (.5 oz each). 
Carton Blanche linen bag:  A nice little bag for small essentials.