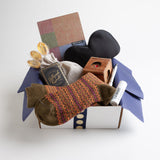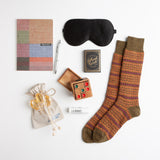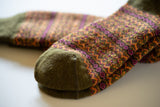 
Carton Oliver
$98.00

Patterned alpaca socks, a black silk eye mask, organic lip balm, playing cards inspired by the legendary Hollywood Roosevelt hotel, and a tweedy plaid notebook should impress even the most dapper fellow on your gift list.
Carton Details:
Olive striped alpaca socks: These colorful mid-weight socks are both soft and warm. Made in Peru.

Black eye mask is made from hypoallergenic mulberry silk. Adjustable.

LA Bruket No 17 Lip Balm: Extra large tube of organic lip balm provides long-lasting relief for dry, chapped lips. Key ingredients: beeswax, almond and coconut oil. Made in Sweden.

Domino Cube: A nine-piece wooden puzzle with three possible solutions, ranging from challenging to the nearly impossible. Made out of eco-friendly monkey wood.

Hollywood Roosevelt playing cards celebrate the fabled hotel in elegant shades of black and gold.

Fabriano notebook: Lined notebook with a dazzling plaid cover inspired by Wallace Sewell fabrics. Size: 5.5" x 8". 48 pages. Assorted.

Carton Blanche logo pen: Silver gel pen with black ink.

Clover honey spoons: These golden lollipops are delicious on their own, or stirred into a cup of tea for just the right amount of sweetness (.5 oz each).

Carton Blanche linen bag: A nice little bag that's perfect for small essentials.